Proper Sanitation: Highlighting the Qtowels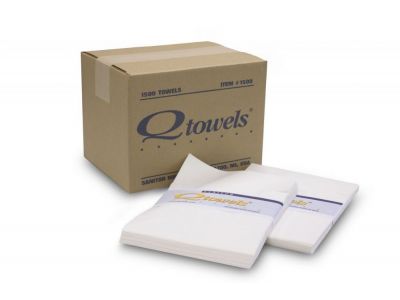 An important part of every company, no matter what industry, is sanitation. Having the correct amount and type of supplies in the bathrooms or kitchens is a necessity in every workplace, from warehouses and factories to fast food restaurants and hospitals. This includes the availability of soap and other chemicals, working plumbing, and ensuring all paper products are provided. Also included are two of the most important items in any bathroom: toilet paper and paper towels. There are many different brands of each, with different styles and selling points. What every company needs, however, are paper products that are durable, effective, affordable, and sustainable.
At Sanitor, we offer Qtowels to meet our clients' needs. Qtowels are dispensed differently from most paper towels found in corporate restrooms, being flat instead of folded. This, combined with their unique design, makes them stronger than regular paper towels and makes them easy to store. Most paper towels are quilted (for better softness and greater absorption) or folded (to reduce the amount of space needed to store them). Qtowels are more efficient than both of these options, because they do not break down or leave behind ever-present paper particles that otherwise stick to mirrors and windows when you try to clean them.
Their durability and effectiveness at drying and cleaning also means fewer Qtowels are necessary to complete a job that might have required a greater number of folded paper towels. Drying dishes at home, for example, can be done with less waste and in less time than with using traditional paper towels, and without the energy needed afterwards for cleaning rags. Qtowels are far more sustainable than other less efficient brands of paper towels.
One of the other benefits of our Qtowels is their dispensers. Many people use automated sensor dispensers for their paper towels, as it saves users from getting bacteria on their clean hands from touching the lever. This technology is great when it works, but unfortunately there are a lot of things that can go wrong with automated sensors – including breaking down and failing to dispense the product.
Qtowels sensors are activated by the touch of a lever, but this lever has a few extra features. It is imbued with antimicrobial chemicals that are harmless to humans but severely impede the growth of bacteria in places where they otherwise thrive, like bathrooms.
The next time you are looking to buy new paper towels for your office or home, consider Sanitor Qtowels. Good for everything from a medical office to cleaning the garage, Qtowels are an excellent option. Contact Sanitor today to learn more about our products.